---
2020 was…
Ok, so with that said it was actually a good year, for my reading anyway. Firstly, let me give you the stats before some highlights.
My 2020 according to goodreads:
Books read: 49
Pages read: 31,560
Avg. Length: 644 pages
Avg. Rating: 4.2 stars
This might be embarrassing to admit, but 47 out of my 49 reads were fantasy books. Now don't get me wrong, I have no shame for my love of fantasy. However, 96% of my yearly reading being fantasy is not exactly a typical year for me. With 2020 being… well 2020, I slipped very easily into comfort reading fantasy books, and in all honesty I have no regrets. Now onto my end of year awards, each of these is purely based on my personal enjoyment and only includes books I read for the first time last year.
---
Favourite Stand alone book
Winner: Tigana by Guy Gavriel Kay
This was one of the most difficult categories for me to decide this year. I read three outstanding standalone novels this year and it really was splitting hairs to give the crown to one of them. In the end Tigana edged out another of Guy Gavriel Kay's brilliant stand alones, The Lions of Al-Rassan. I think this may have been slightly clouded by the order I read them in. Tigana was high on my TBR and I read it the month before I began reading Lions, as the first work I had read by Kay it may always stand as my favourite work by the Canadian. 
Tigana follows a group of rebels from a nation that has been erased from the minds of the populace. They are fighting against the regime of the Sorcerer ruler who worked to remove all memories of their beloved Tigana from the world. It is beautiful, poignant and tragic.
I immediately fell in love with Tigana and Kay's prose, which was a big surprise to me. Normally I enjoy direct, concise and functional prose, yet Kay drew me in with magical descriptions, wonderfully crafted sentences and themes that struck me right in the feels. If you find wonderful prose a must, then Kay is the author for you. I didn't find the character work particularly strong, yet his exploration of themes, particularly of memory, patriotism and identity were so wonderfully realised I cannot fault it.
---
Surprise of the Year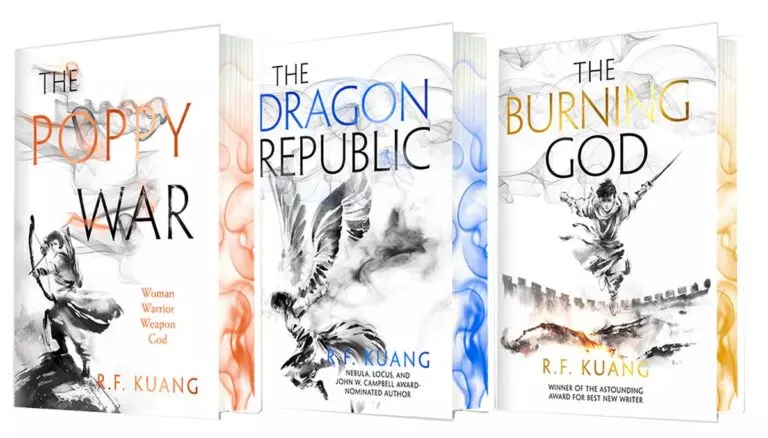 Winner: The Poppy War Trilogy by RF Kuang
This is an Asian inspired grim dark fantasy, with a magic system based on consuming opioids. We follow a teenage war orphan Rin as she tries to make something of herself, in a nation that seems to be in a perpetual state of war.
I had heard so many wonderful things about this series that I had to read it, however I was worried it wouldn't be for me. I haven't read much grim dark fantasy in my life and I was prepared to not get on with it. Boy was I wrong to worry. This series is incredible, it explores horrific themes and only gets more harrowing when you realise the disturbingly close parallels to the second sino-japanese war. This trilogy is not for the faint of heart and trigger warnings abound. I binged the first two books of this series and felt cheated that I had to wait three months for the final installment. (I know three whole months, woe is me.)
This series is most definitely not for everyone, but if you want a realistically brutal look at warfare and it's atrocities, and a tragically painful descent for the characters we are following, you need to read this series.
---
Biggest Disappointment
Winner: Peace Talks by Jim Butcher
The Dresden Files is the series that got me back into fantasy. I have reread the first fifteen books more times than is reasonable. I will forever love the series and Jim Butcher for bringing me back to reading and fantasy with this world and its characters. Now you might see why Peace Talks was one of my most anticipated releases last year, especially considering the previous installment in the series was released in 2014 (it had been a long wait for us Dresden fans).
Butcher announced early in 2020 Peace Talks had grown too large for his publisher and he had reworked it into two books that were to be released within months of each other, Peace Talks and then Battle Ground.
When Peace Talks released I burned through it in two days and it was fine. Please don't read that as bad, it was fine, but my hopes and expectations for the eventual resumption of this series were not met. This book was on a level with the early entries in the Dresden Files, perfectly serviceable, but it felt like an unfinished story. All became clear a couple of months later when Battle Ground released.
These books really should have been one book (and that is how I am thinking about them now), and combining them as a singular entry in the series I would rank this as a solid middle of the pack Dresden story. However, Peace Talks as it was released, on its own, left me wanting more and not in a good way. 
---
My biggest project
Winner: The Wheel of Time by Robert Jordan
At the beginning of the year I felt I had a rather large gap in my fantasy reading history, I had never even started the Wheel of Time. As a huge Brandon Sanderson fan I knew this series has been a massive influence on him, and actually helped propel him to authorial stardom when he was asked to finish the series after Robert Jordan's untimely death. This series has been a cultural touchstone for the fantasy genre for decades, and it was beyond time that I gave it proper go. Between March and the end of the year I read through the first eleven books of the Wheel of Time (not including New Spring), that took me to The Knife of Dreams, the final book published before Jordan's death.
This series is slow and plodding, it is inconsistent in quality and pacing, and characters have infuriating ticks that get described in exactly the same way over and over again. And yet I absolutely adore it, despite its many flaws. The world Jordan built is magnificent and feels as real to me as any world I have ever read, the characters feel like real people who progress and change, and there are epic moments that explode into being at the climax of many of the books (I'm looking at you, Lord of Chaos).
As you may know, there are a few books in this series commonly referred to as the slog. For many readers these books can be a chore as the pace slows dramatically and it is often here that people give up on the series. Depending on who you ask, the slog varies and can be defined as broadly as books 7-10, others say it doesn't exist at all. For what it's worth the only book I felt like I had to really drag myself through was book 10 Crossroads of Twilight. The pace had slowed to a crawl and it did feel a little like a chore.
A Knife of Dreams (book 11), however starts with a bang and carries that moment through the entire book. It has left me desperate to continue in 2021 and I am very interested to see how Brandon Sanderson did continuing this epic story, and how he matched his style prose to that I have become accustomed to in the first eleven books.
Overall I am super glad to have started this series and am sure I will finish it in the first quarter of 2021.
My top 3 books of the series so far would be: The Shadow Rising, Lord of Chaos and The Knife of Dreams. 
---
Favourite Series
Winner: The Faithful and the Fallen by John Gwynne
The Faithful and the Fallen by John Gwynne was my absolute favourite reading experience of 2020. This four book series starts with Malice which was John Gwynne's debut novel, but oh my, it does not read like a debut novel. The first half of Malice is definitely a little slow, but with good reason. Time is taken to build the world (The banished Lands), to introduce us to characters and let us build a real attachment to them. This makes it hurt all the more later in the series, when Gwynne makes your favourite characters suffer, and he will make them suffer.
This series is a violent love letter to classic fantasy (read David Gemmel), and it doesn't pull its punches. I have never read an author who writes so many combat scenes, and yet I never found myself bored or skimming through to the resolution. Every fight mattered and gave us an insight into our most beloved and most hated characters.
To emphasise just how good this series is, it contains both my favourite character in Fantasy (The Old Wolf) and my most hated character in Fantasy, and both of them are secondary characters. How does an author even manage to make me care that much about secondary characters who we don't spend much time with? It boggles my mind.
I'm trying really hard not to spoil anything for this series, but the one thing you need to know is, GO AND READ IT.
Malice, Valour, Ruin and Wrath all got a 5 star rating from me, and not only is this the best series I read in 2020, but it is also currently my favourite completed work of all time. Need I say more.
---
So there you go, some of the highlights and a lowlight from my year. 
Thanks for reading my 2020 in books.
My aim in 2021 is to write a short review for every book I read, so stay tuned for those. Also expect my top 10 Fantasy Series updated for 2020 coming soon. 
Go forth and read.
AllBookedUp